✨Salesforce Whitespace is a paid add on to the Salesforce Connector. For more information please contact your dedicated Customer Success Manager ✨
Salesforce Whitespace allows you to leverage the companies that your Salesforce Connector integration has already matched in your Production organization.
After you create a list in Opportunity Generator, HG will use this list of know matched companies to compare and deliver a collection of new companies to help build your pipeline.
Getting Started
In order to use this feature you must have a connected Production Salesforce org on your account. Salesforce Whitespace will automatically detect and use out matched companies for all processing.
Salesforce Whitespace is available in Opportunity Generator for licenses both Read Only and Export Platform access.
If you have a Read Only license it will look like this:

And if you have an Export license it will look like this:

Creating the Whitespace Export
After you finish building your Opportunity Generator list, you can start the Whitespace processing.
When you click Process Whitespace we'll show you a modal will some additional information.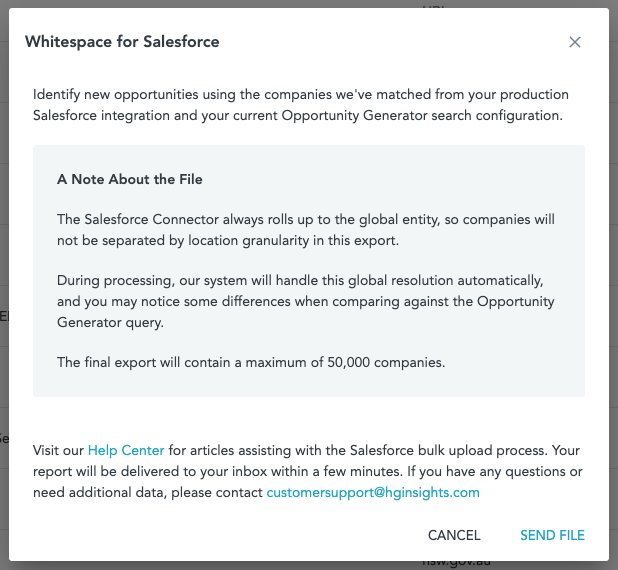 During processing, we'll remove location granularity to give a more global view of the company, and will also remove any duplicate URLs that might appear.
The final export will not exceed 50,000 records.
When processing is completed you'll receive an email with a link to download your CSV. We'll also email you if we detect no new companies or encounter an error during this process. This process typically takes a few minutes - if you're waiting hours for an email please contact us.
Reviewing the CSV & Account Upload
The final CSV export will include the Company Name, URL, and location information to aid with Salesforce upload.

We recommend reviewing this CSV output for quality, and to ensure all proposed Whitespace accounts are accurate. At this point you can also append any required data points needed to create an Account in your Salesforce.
When ready, you can user Salesforce tools such as the Bulk Data Loader or Data Import Wizard to insert the new Accounts and map the required fields.
When uploading to Salesforce you must select (Unicode) UTF-8 to ensure special characters are handled appropriately.
After the new Accounts are uploaded, your Salesforce Connector integration will detect the change and will match and enrich during the nightly sync. If you want it sooner, you can also click Sync Salesforce on your integration in the HG Platform.